0
+
End Clients and Members
---
mFinance is a specialized software solution for microfinance and consumer finance
Apply successfully and most widely in South East Asia.

What Client's Say

NGV has become more and more popular brand-name in banking and finance IT industry, especially with eFund product which is now broadly used by over 400 PCFs in 33 provinces, and with mFinance product which is used by most microfinance institutions. The solution helps to yield better management of PCF and MFI, time and cost saving as well as enhances financial transparency. This not only make PCFs and MFIs good but also assists the State Bank in macro and remote monitoring of PCF, MFI at localities as well as nation-wide.

mFinance Software Solution of NGV has been accessed as best solution for Mirofinance company and NGV's customer care and maintenance services was also considered as fairly good. mFinance was designed rationally and in compliance with operational practices which enable the manager and users spend not so much time in customer management.
---
SERVICE PACKAGES FOR REFERENCE
---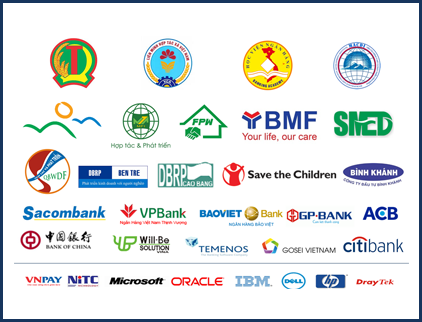 Most popularly applied solution
Micro financing contains a lot of particular activities which oriented us to design and develop an advanced solution which specializes in Microfinance Institutions (MFIs).
Initially deploying in 2010, to date, mFinance has been present in various Microfinance Institutions in Vietnam and oversea: Thanh Hoa MFIs; M7; Save The Children; Ben Tre DBRP; Vietnam Banking Academy (Practical training version); BIDV Myanmar Finance Company; Quang Binh Woman Development Fund; Tien Giang Woman Development Fund…
---
Comprehensive Consultancy and Support
NGV maintains a strong team of profound expertise in banking and finance as well as informatics technology who are always standby for our clients' requirements and feedbacks. We find it vital resource to master our quality of services to our clients.
Contact for our consultancy and support:
Address: Lot 5 – Lane 299 – Trung Kinh Str., Yen Hoa Ward, Cau Giay Distr., Hanoi, Vietnam
Email: info@ngvgroup.vn
Fax: (+84) 4 3312 0994
Tel 01: (+84) 4 3312 0993
Tel 02: (+84) 04 3312 0937
Tel 03: (+84) 04 3354 5654
Hotline: (+84) 0913 420 993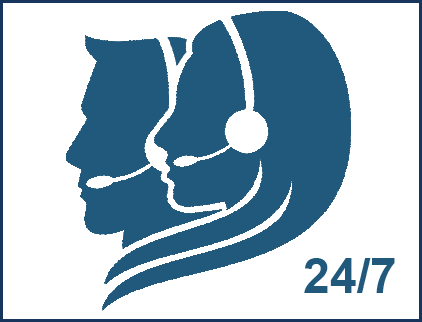 ---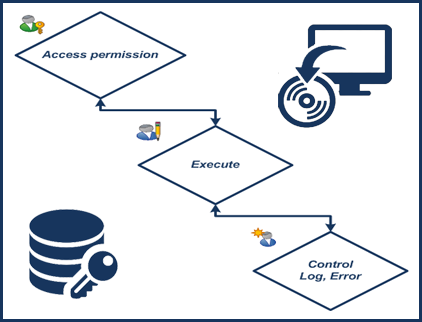 Safety & Security
IT risk, including data protection and security risks, remains top concern of managerial team of any enterprise during application of IT into business running.
Some issues related to safety, security, IT systems in banking:
Organization of ensuring Safety, Keeping secrets of the IT system in Banking Operation
Management of IT assets
Management of Human resource
Ensuring safety of environmental and physical aspects
Management of Operation and Communication
Measures of access managements
Takeover, Development and Maintenance of IT system
Management of IT trouble –shootings
Management of IT system's Continuity
Internal Controls and reporting
mFinance provides full functions and tools for ensuring data safety and confidentiality keeping for the organization's IT system. In addition, our support team are always standby for consultancy and support for our clients to build up suitable protection and security procedures.
---
Legal Compliance
mFinance was designed and developed in compliance with the existing set of rules and regulations upon: Accountings; Deposit; Loans; Money market activities (Deposits/Borrowings at/from other Credit Institutions); Safety of loan/deposit and Monitoring …
mFinance has been awarded Certificate of Intellectual Copyrights to NGV and its clients who use the Solution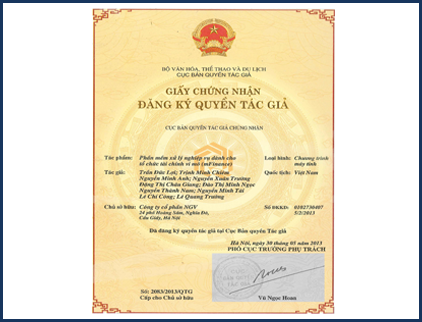 ---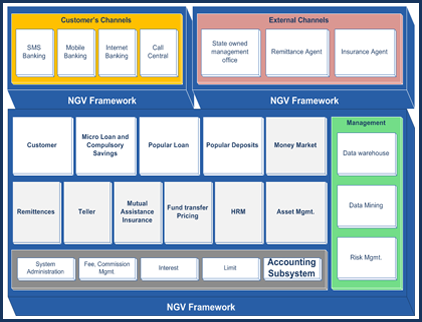 Full Operations
mFinance was designed from framework to details with open architecture and under standardized criteria which ensures the independence and interactions among operational modules with highly – parameterized ability … to handle full range of application of IT into Microfinance Institutions' operational and managerial activities.
Thank to this design, each Microfinance Institution may apply partial or full range of operational modules at their own requirements
The partial or full application modes depends on following aspects: quality of human resource, business process, cost of investment… Upon our experience of having deployed for over 400 clients, we strongly recommend the partial mode, starting from basic then gradually expanding to advance modules.
Pls contact us for further details!
---
Straight-through Process
Running business in a systematic way under availably efficient business processes is most important to managers. This becomes even proven when an enterprise takes on application of IT into their business running.
mFinance meets all standard operational processes of a present Microfinance Institution and in addition, mFiance is dynamically parameterized to handle all exceptions and particular requirements of a Microfinance Institution.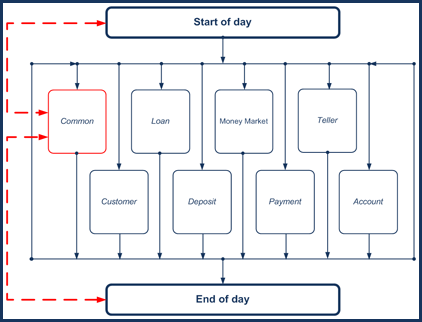 ---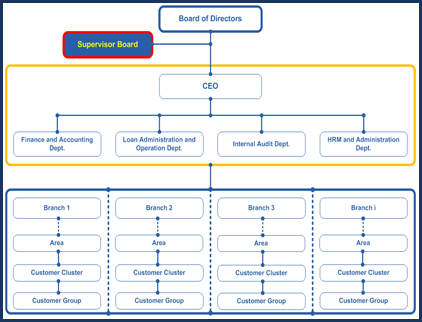 Flexibility for various types of organization charts
mFinance enables the user to set up different working department as well as simply to authorize access rights which is 1:1 reflective to the present organization chart of our client.
This helps the users of the solutions to easily imagine the flow of activities within the organization as well as within the proposed system.
---
Flexibility for various operational models
mFinance should be used under one door or multiple door model and even easily exchangeable between the two for the whole Microfinance Institution or even for a single transaction counter of that Microfinance Institution …
For Microfinance Institution who has multiple transaction counters, depending on the telecommunication infrastructure at the localities as well as Microfinance Institution's needs, it is possible to deploy mFinance under either centralized or decentralized (with periodical data synchronization) mode.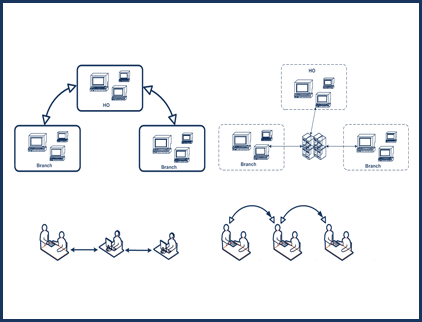 ---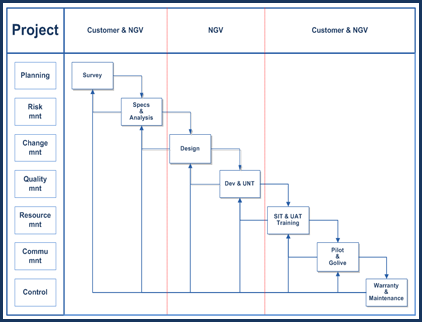 Scientific Implementation Methodology
As an experienced player in the industry, we are well aware of importance of implementation which requires constant cooperation, joint efforts and sharing between solution vendors and buyers
We are proudly believed in our implementation team who are well trained and own profound knowledge of MFI's operations together with our product of mFinance. Our staff does have good skills of: planning, communicating and training … Our team shall cooperate with our clients to execute such implementation works as:
Surveying and Investigating the actual running of target organizations;
Drafting the users' requirements;
Delivering Trainings on Operations and Tech- Transfers;
Setting up initial configurations of the proposed Systems;
Data Conversions and Reconciliation;
Pilot Supports….
---
User-friendly interface, and easy
Thank to our study and practical experience in selection and development of Banking and finance IT software solution over years, our mFinance development team has worked out standard set of interfaces which are in compliance with Microfinance Institutions' operational practices for the best efficiency of users.
mFinance's set of interfaces ensures:
Uniform in designs; colours; graphics and fonts;
Simplifications and easy accessibilities;
Consistency, understandability and easy exploration;
Easy to interact and look up.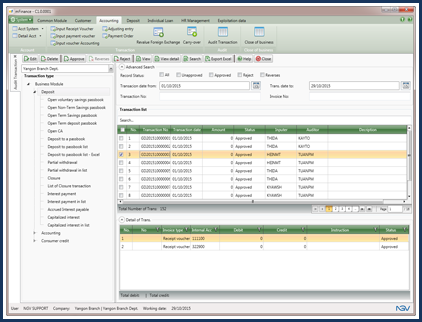 ---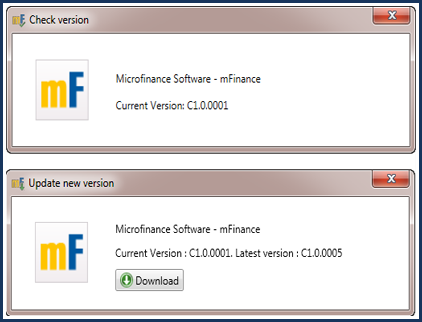 Version Management
Along with the business going-up, new business ideas and services comes into the market and these requires the updates/ enhancements of the Software solutions.
And subsequently, the Version Administration Module is designed and developed in mFinance to handle the course of managing details of updates and enhancements executed.
---
System Management
System Administration Module supports to manage all IT system resources as:
Users' information management;
Users' access rights to operational and reporting modules;
Maintenance of system's parameters;
Surveillance of users log ins/outs and user activities;
Handling of data backup and recovery;
Version administrations.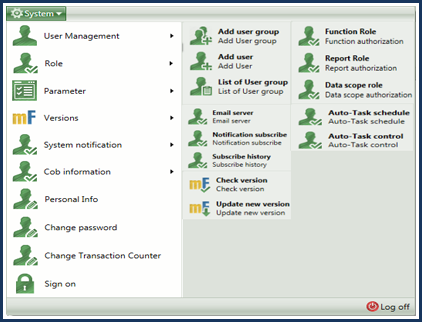 ---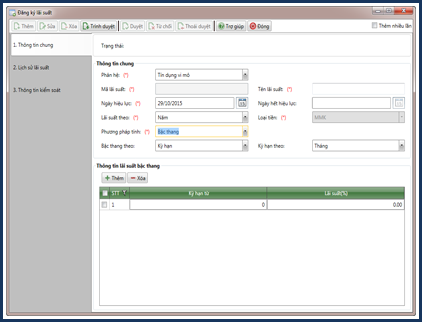 Limits
MFI's activities involve such limits of credit limit; approval limits; cashiers' limits. The bigger the MFI is, the more complicated limit controls is required to prevent the risks.
Limit Module in mFinance enable the user to:
Manage the transaction limits for teller:
Max number of transaction per day
Max Amount of money per transaction/day
Max Total Amount of money transacted per day
Max/min remaining amount of cash/day/teller;
Manage the credit limit;
Approval limit of credit
Min/Max remaining balance
---
Interest Rate
Interest is an important factor constituting banking-finance products. mFinance provides tools and functions to centrally manage interest settings which are universally applied to the whole MFI.
Interest Module assists to:
Manage the detailed interest rates of all products of: Saving/Time Deposits; Current Accounts; Micro Loans; Normal Loans; Consumer Loans; Money Markets (deposit/loan from others);
Manage interest rates as per:

Fixed or floating interest rates;
Interest rates as per currencies;
Public and negotiated interest rates
Tiered Interest rates; termed interest rates or combination of tiered and termed interest rates…
Log all historical changes in interest rate information.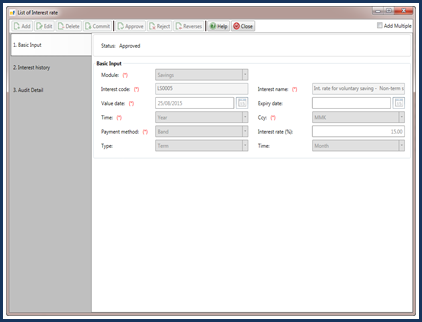 ---
Charges and Commissions
Charges and Fees are collected against other services/products than Credit and Deposit provided by MFIs. Examples include: Passbook opening fee; Evaluation fee; pre-mature settlement fee…
Commission is a kind of MFIs' income when executing brokerage activities under contractual agreements with other entities to deliver their services to MFIs' customers.
mFINANCE facilitate the users to handle Fee/Charge management of:
Flat or Tiered Fees/Charges;
Fixed fee or Percentage Fee;
Min/Max fee as per transactions;
VAT and percentage of VAT upon receivable fee amount;
Configuration of fee/charge for each operational module.
---
Customer & Member
MFIs' customers include: low-income individuals, households who meets classification criteria set by MFIs in reference to poverty standards under Prime Minister's Decision. Customer – Member are integral to the MFI's business and also subjected to be served. MFIs' customers and members are supervised under model of Region/Group/Cluster of common commitment to pay shared loans.
Customer and Member Module ensures:
Manage customer/member profiles in multi-dimensions of full details. The system is flexibly parameterized to provide additional information fields;
Support full range of the operations: New membership approval; Group creation; Region changes…
Monitor and detect duplications of customer-member information;
Manage signature image: to facilitate promptly and precisely the validations of transacting customers;
Manage customer care through SMS Banking;
Consolidate all kinds of transactions made by/to customers and members;
Manage all history of information changes.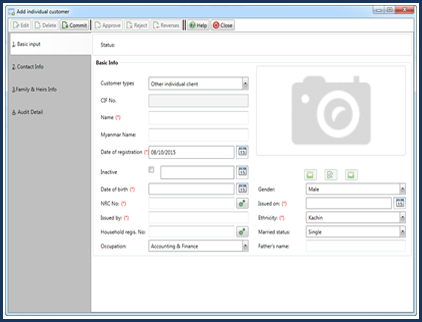 ---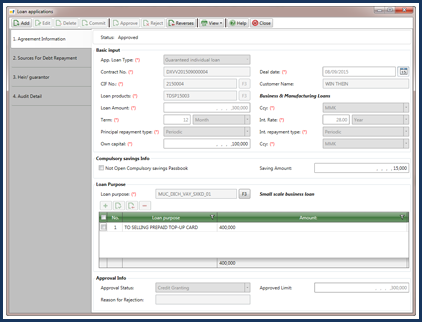 Micro Loans
Microloan has been seen as strategic facility for poverty and hunger alleviation and is most crucial operation which differentiate a MFI against other types of banking and finance entities' normal credit activities. The loan is made in Group, without collaterals; the credit amount is small and periodical repayments includes both installment principle and interest payments. .
mFinance enables user to manage comprehensively such operations:
Defining microloan products (with loan cycles; product cycles);
Scheduling fund disbursement/collection as per region/cluster;
Localizing microloan products to ensure the customized product applied for specific region as required;
Evaluation and Approval of microloan: manage loan applications; applicant surveys; historical transaction analysis;
Fund Disbursement and Repayment Control: able to execute fund advance to region, to group with detailed tracking to individual beneficiaries; auto-scheduling of repayment plan; repayment alerts and notice as well as monitoring of repayment performance;
Bad debt Management: Classifying and making provision for debts in accordance with legal regulations; Supporting to address overdue debts or settle bad debt as decided by the MFIs.
---
Compulsary Savings
Compulsory savings is a small amount of money/addendum included in periodical repayments of the borrowers which is percentage-based against the loans as required by the MFIs.
mFinance enables users to manage all relating operations of compulsory savings:
Defining repayment schedule (amount, payer, interests, minimum/maximum saving balance, available withdrawals …;
Basic practices: Open passbooks; partial withdrawals; settlements; deposit/deposit more money…;
Ensure the deposits to be in line with regulations defined in Decision No 1160/2004/QĐ-NHNN dated 13/09/2004 and its Amendments in Decision No 47/2006/QĐ-NHNN on 25/09/2006.
Internal link between compulsory passbook and loan principles, allowing to sweep fund from passbook for insufficient;
Execute group guarantee for failed repayment of one of group loan members by linking each member loan to all members' passbooks.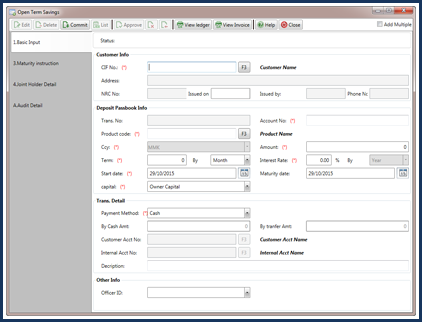 ---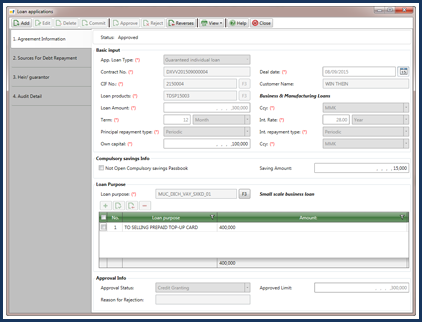 Consumer Loans/Credits
This is considered as a breakthrough for MFIs while accessing consumer credit field. Consumer loan is quite popular now in well-developed MFI countries. In Vietnam, MFI has not been allowed to embark on this service as insufficient legal framework but along the time, the story will be reverse.
On-site experience of consumer loan running in Myanmar proves the comprehensive ability of mFinance over handling consumer loan practices, particularly:
Defining diversified consumer loan products (credit limits; interest…);
Evaluation and Approval of consumer loan: manage loan applications; applicant surveys; historical transaction analysis;
Fund Disbursement and Repayment Control: credit contract management, covenants, auto-scheduling of repayment plans; credit controls; risk managements; repayment alerts and notice as well as monitoring of repayment performance of each customer;
Auto repayment collection from current accounts;
Bad debt Management: Auto Classifying and provisioning (by auto schedule) for bad debts in accordance with legal regulations; Supporting to address overdue debts or settle bad debt as decided by the MFIs.
---
Popular Loan/Credits
Credit is one among main operations of MFIs in particular and any credit institutions in general. This line of business generates the main income for MFIs. The business, however, is accompanied with a lot of risks and then requires all credit institutions to apply strict loan management process right from beginning till the settlement of the Loan.
mFinance provides comprehensive tools to manage fully and flexibly all MFI's normal credit business in compliance with existing laws. The outstanding strengths include:
Defining diversified types of credit products as per market's needs;
Monitor thoroughly and fully each loan cycles
Save time and efforts in looking up the loan profile; required calculations; making reports …
Credit Module enable to manage:
Credit products;
Credit contracts;
Credit line/limits;
Collateral Asset managements;
After Loan activities;
Information changes in credit contracts;
Consolidate statistical reports and manage credit data under multiple angles.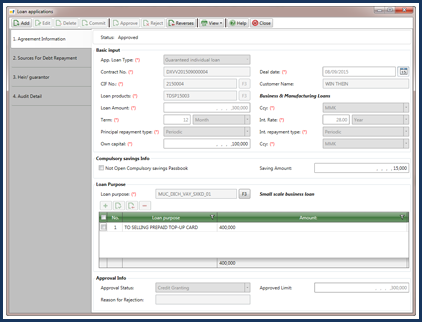 ---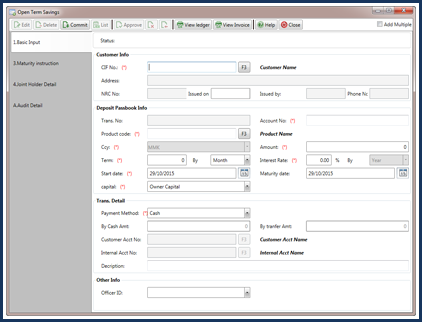 Voluntary Savings
Official MFIs who owns legitimate capital fund should be allowed to mobilize voluntary deposits at various types: time deposit; demand deposits from members, customers, corporates in VND.
mFinance provides a comprehensive facility to assist MFIs easily and efficiently operations. The outstanding strengths include:
Manage all deposit profiles in intelligent and sufficient ways;
Maintaining types of normal deposits: Time/flexible/tiered/ demand Deposits
Diversifying interest rates upon each product;
Basic practices: Open passbooks; partial withdrawals; settlements; deposit/deposit more money…
---
Fixed Aset
Fixed assets are inevitable for MFIs. Along with the economic and scientific developments, fixed assets have been evolved and modernized to enhance productivity and product quality. This leads to higher and higher requirements for management of fixed assets.
FAM module covers such operations as follow:
Management of fixed asset details;
Support to facilitate: credit/debit/ handover/ property card maintenance; upgrade and settlement of upgrade ……;
Calculations of depreciation incompliance with Circular No 45/2013/TT-BTC;
Store and monitor the information of FA from procurements till validations
Support to export reports as regulated.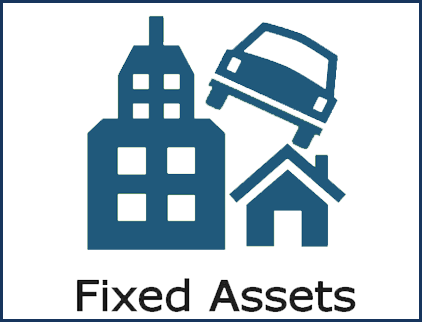 ---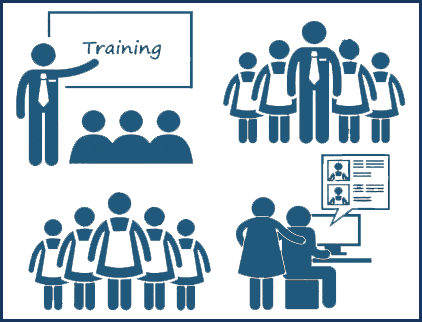 Human Resources and Wages
Human resource is precious to any enterprises. It's permanent questions of any leaders to find out the way to develop their human resource.
The HR and Wages Module handle such issues as follow:
Management of Employee profiles; Dynamically parameterize information fields for supplementary usage;
Handle such HR activities of Recruitments; trainings … especially mFinance provide flexible tools to make payrolls which definitely meets diversified demands of MFIs
Manage wages, wage ranges, allowances … with diversified and flexible formulas for remuneration allocations
Manage also team leaders of group/clusters; partimers as well as auto calculation of commissions based on such criteria of : Credit balance; surplus; market fluctuations…
---
Accounting and Controls
Main jobs of Accountings at MFIs include: collecting, consolidating, classifying, analyzing financial movements upon credit/deposit operations to report; controls all MFI's business. In addition, this also acts as the necessary source of information for macro management of relating governmental authorities.
Basically, the accounting at MFI shares common principles as in other types of credit institutions.
Accountings and Control Module in mFinance is designed to ensure:
Manage thoroughly the account systems in details from Main/Mother Accounts to its Sub/Child account as per balances, historical transactions of each accounts;
Manage all daily transactions arising in a systematic and scientific way;
Ensure prompt and correct accounting entries. All transactions should be auto-posted into the Balance sheets, logs in pre-defined posting flows which comply with existing rules and regulations.
Enable the MFI to control the transactions and closing the accountings books in daily basis
Managing and Controls of daily arising transactions also set the conditions for making required reports for internal filling or at authorities' requests.
Providing accounting stadardized reports under GL
Analyzing accountings statistics: help to raise comments; proposal for financial and accounting decision making.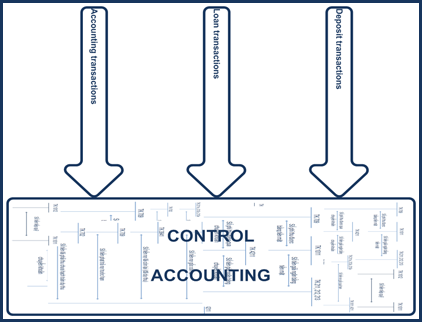 ---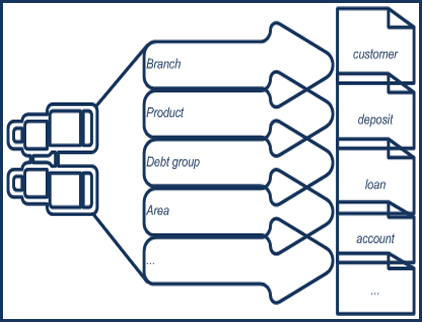 Data Mining
This is considered as the Output of the whole system. mFinance is designed to connect data from separate operational modules for easier looking up/checks. mFinance also provides tools for data consistency management as well as allows users to exploit data efficiently on multi dimensions: time, subjects, users … Data can be extracted from mFinance:
Customer/Member data;
Credit data;
Deposit data;
Statistical criteria: ROA, ROE, …;
All exported data can be displayed in excel, Pdf or word formats.
---
Financial Reports
Provide full range of report standards as defined by Decision No 16/2007/QĐ-NHNN dated 18/4/2007 by SBV's Governor.
Auto export relating reports in SBV-predefined formats (excel, text…).
Be standby for connection and integration with third party(ies) once required.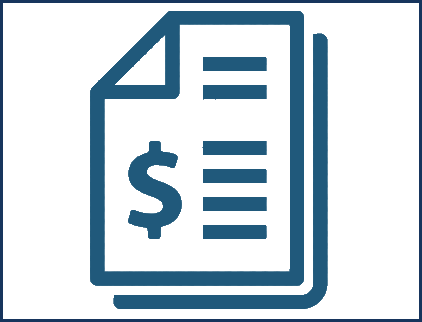 ---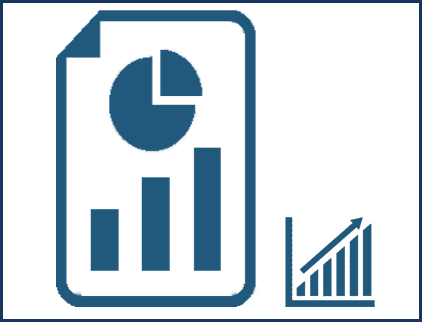 Statistic Reports
Provide full range of report standards as defined by Circular No 5135/NHNN-DBTKTT dated 15/8/2012 by Monetary Forecast and Statistics Dept of SBV.
Auto export relating reports in SBV-predefined formats (excel, text…).
Be standby for connection and integration with third party(ies) once required.
---
Customers & Members Reports
Support to generate diversified reports of Members likes: customer profiles; decision of membership; poverty certifications; members' statements ….
Support to analyze member data under various criteria: age, locations, sex, careers…
Auto generate and export relating reports in SBV-predefined formats (excel, text…).
Provide member segmentation reports at MFIs' designs.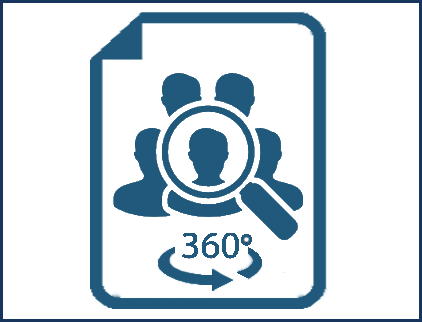 ---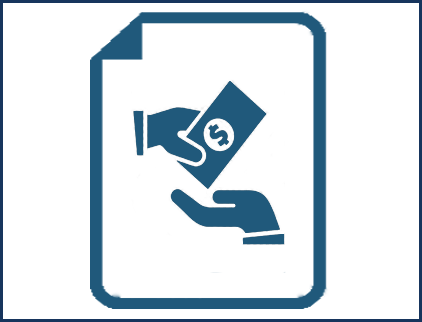 Credit Reports
Support to generate credit data in each loan modules: microloan reports; consumers loans; normal loans.
Satisfy diversified requirements of reporting upon: Credit profiles; credit ratings; Debt classifications; List of Contract at maturity; Credit balance statements by Region/Group/Credit officers…
Auto generate and export relating reports in SBV-predefined formats (excel, text…).
Provide credit reports based on customer's segments; average credit balances and others at MFIs' designs.
---
Deposit Reports
Provide diversified reports on deposit data based on Region; passbook statements by deposit officers; by products …
Auto generate and export relating reports in SBV-predefined formats (excel, text…).
Support to print statements of deposit transactions.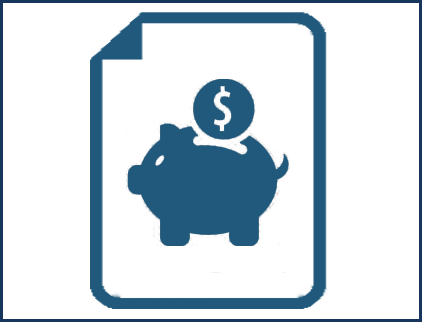 ---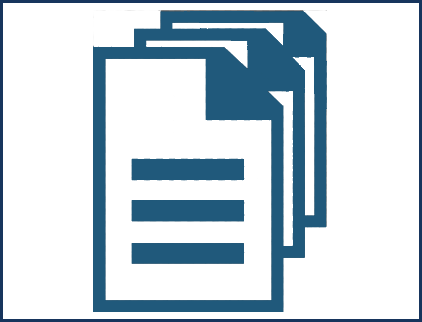 Consolidated General Reports
Provide diversified general reports like: Operational reports (daily, monthly); revenue reports…;
Provide general reports as Donor Reports; Fund Mediating reports ..based on MFIs' designs.
---
SMS Banking
SMS Banking is an added services which enables customer to execute such transactions: balance Inquiry; news-update registrations … in his/her mobile phones; In addition, this Module also helps customer services like: repayment alerts; change of interest rate, birthday greetings….
Customer interacts with the organization by texting to predefined directory in 24/7 basis.
Benefits:
New convenient channel of services;
Connecting clients;
Service quality enhancements and client satisfactions;
Easy and simple for new product developments;
Efficiently execution of direct marketing campaign to customers.
Minimize cost and time – increase values to clients.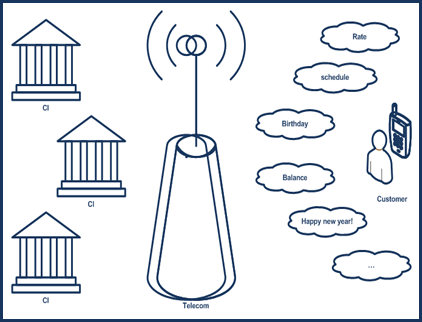 ---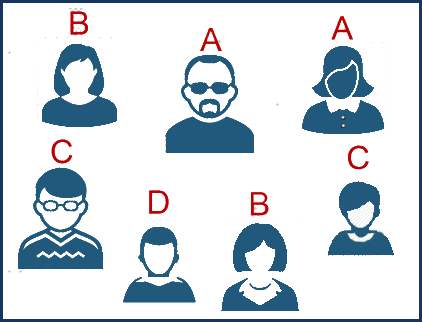 Credit Ratings
Credit rating is evaluation of availabilities of repayments made by the borrowers as per terms and conditions in contractual credit agreements. Credit rating also relates to evaluation of credit risks based on other factors (financial abilities; potential bankruptcies against changes of business environments, awareness and good will).
With particularities of non-collateral asset requirements, using pressures of group guarantee for repayments, credit scoring and rating system for MFIs is profoundly complicated and need strict monitoring.
mFinance supports to manage customers' factors which helps to facilitate decision makings:
Manage individual customer profiles with ratings of relative factors and ability to pay loan;
Supervise repayment schedules; history of deposits which helps to give some conclusion of credit rankings for credit activities;
Support to decide the credit approval: defining credit lines/limits; interest rates; loan term; facilities to ensure the loan payments;
Supervise and rate the customer during the active credit contracts.
Credit rating helps MFIs to forecast the credit qualities as well as preventive measures.